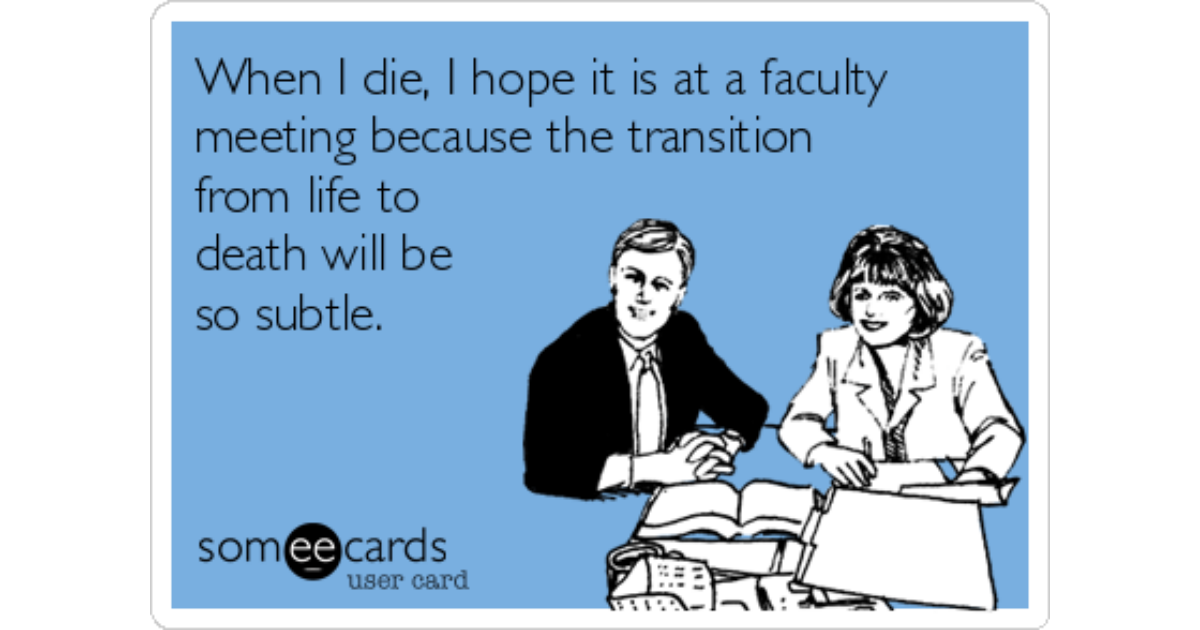 We've all seen them, right? Memes about faculty meetings. And all of us can relate to them in one way or another. So, how do leaders go about redesigning them? This post shares four suggestions for the upcoming school year.
JUST SAY NO TO NUTS & BOLTS
If it can be in a email, put it in an email. Or put up a notice near the mailboxes. Or simply hand out information at the meeting without explanation. Everyone on your staff can read. If a few have questions, they can see you after the meeting or at another time.
Even better, get in the habit of doing a weekly newsletter for your staff, that is issued on Monday morning or by Friday midday. As information piles up in between, plop it into the newsletter. Your office staff may even be able to do all of this for you! This method also eliminates daily emails sent as details pop up.
If you just can't get away from making announcements or sharing information, try using the 15-minute faculty meeting idea at the end of your meeting.
PLAN, PLAN, PLAN
Agendas should not be done at the last minute. Just as we expect teachers to have intentional lesson plans in order to engage and empower students, we must do the same. What are our intended outcomes for this session – school improvement check-in, data analysis, instructional strategies, inquiries, culture? How will we go about engaging everyone in the session? Why is this session relevant to us and our school?
Planning and preparation will make the sessions more engaging and relevant to all. Moreover, you will be modeling the same type of behavior and action that you ask from teachers in their classrooms.
MAKE IT ABOUT TEACHING & LEARNING
Teachers rarely spend time together as a whole staff, in relation to the total amount of time spent on the job. Therefore, it has to be meaningful, and contextual for the other 99%. This also means that leaders need to be in touch with teachers' growth edges, and plan accordingly.
If you need some ideas on how to get started, check out this blog post by Julie Adams. She provides more than a dozen ideas on easy-to-do items.
SHARE THE LEADERSHIP
"Within every school there is a sleeping giant of teacher leadership that can be a strong catalyst for making changes to improve student learning."

Marilyn Katzenmeyer & Gayle Moller (2009). Awakening the Sleeping Giant: Helping Teachers Develop as Leaders.
There is no reason for the principal to be the only person facilitating or presenting at a faculty meeting, especially when we want it to be about teaching and learning. One of the five key practices of an effective principal is to cultivate leadership in others.
For example, check out this Show and Share example out of Washington. Teachers take charge of different segments of the meeting, and it becomes much more relevant for all. Indeed, when you read the article, you'll see teachers describe their faculty meetings as "fun"! That is certainly a stark contrast to the memes that opened this blog post.
Join the conversation…
Now that you've had a chance to think about the above four items, what other ideas do you have to build a better faculty meeting? What have you already experienced in practice?